ELIZABETH FALKOWSKI, Owner and Instructor:
Elizabeth began her study of Pilates through her classical ballet training and discovered its amazing benefits for injury prevention and rehabilitation.
Elizabeth holds a BA in Dance Movement and Health Promotion from Mercyhurst University. Her studies in anatomy/physiology, nutrition, sports and health psychology, as well as body mechanics, have allowed her to meet the individual needs of her clients and bring a holistic approach to fitness. In 2002, Elizabeth received her Yoga certification from the Integral Yoga Institute in Melbourne, Australia and has found great joy in teaching and sharing the benefits of Yoga in private and group settings. In 2006, Elizabeth received her classical Pilates certification through Power Pilates NYC under the inspiration of Susan Moran Perich and Bob Liekens.
Elizabeth has over 20 years of experience teaching Yoga, Pilates and Ballet to children and adults on the east end of Long Island, as well as NYC. She brings a varied background of professional dance, kinesiology, Hatha yoga, holistic/nutritional studies and Pilates training to her work.
By assessing each client's individual needs and goals with her ìtrained eyeî, Elizabeth creates tailored workouts, enabling one to achieve maximum progress. Her group classes are energizing and fun, while keeping the focus on proper form and alignment to balance the body. Elizabeth's dedication to a healthy, balanced life, along with her understanding of movement in the body, drives her passion for teaching.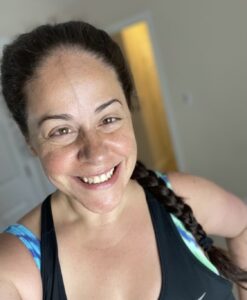 MICHELE BRICKNER
Michele attended her first Pilates class in 2006 with the simple dream of being pain free. With consistency and patience, Pilates eradicated her crippling back pain, gave her newfound strength, and allowed her to move freely. Pilates has also helped her develop a deep awareness that informs the way she moves. Pilates continues to serve as the foundation for everything she does, from caring for her active daughter to training for her triathlons. As it brings her steadiness, strength, and focus, in mind and body. Because of all it has done for her, Michele loves sharing this transformative practice with others, and helping them find the freedom she has discovered. She brings her treasure trove of experience and a sense of excitement to each class, always eager to help her clients achieve their highest potential. Michele completed her comprehensive Pilates training at Core Pilates NYC in 2016. She is also a NASM Personal Trainer, with additional certifications in yoga, trx, pre/postnatal, running, group fitness and nutrition.